Join our theatre program!
As a member of the Missouri S&T theatre program, you'll have opportunities to act and/or work on technical projects. We seek to entertain, but more importantly, we seek to create opportunities to grow for actors and audience alike. We are a diverse group of all ages and talents, and welcome new students to join us in presenting five to seven shows per year.
We are cognizant of students' tough schedules, and seek to keep rehearsals short and productive/we can often work around your schedules, and encourage you to try us out!
Our campus is also home to the Psi Nu cast of Alpha Psi Omega (APO), the national theatre honor society. LEARN MORE ABOUT APO
Prospective Students
Interested in learning about the theatre program at S&T? Fill out our prospective student form and a member of our theatre faculty will reach out to you. PROSPECTIVE STUDENT FORM
Why Theatre at an Engineering University?
Employers want more from their prospective employees
They want people who possess "soft skills"; those with the ability to communicate clearly and effectively, who are able to give great presentations, who have a dedicated work ethic. A theatre minor will enhance those skills, and give you an opportunity to show that you are well-rounded. Research shows that skills learned while involved in a theatre program transfer naturally to desired skills that employers are asking for.
Acting, tech or both?

We offer exciting opportunities in both creative and technical sides of the theatre from acting, directing, and writing to light, sound, and scenic design. Students get to work with state of the art equipment on a large scale inside the Leach Theatre Stage space and on a more intimate scale inside Missouri S&T Theatre's Black Box (which we like to call our 'theatre lab'.)
All of our courses serve as humanities credits.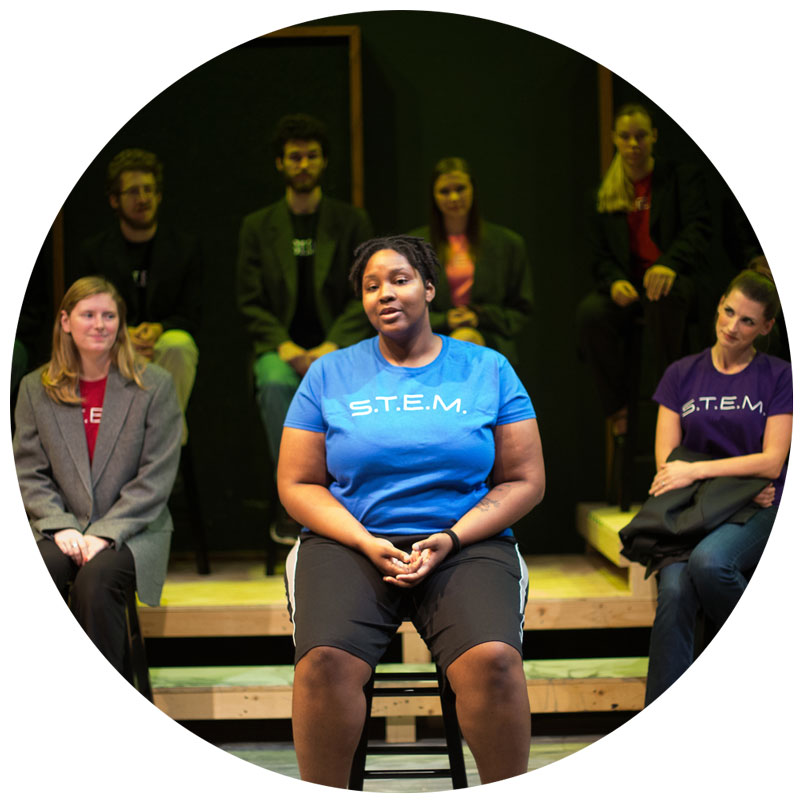 A minor in theatre requires a minimum of 16 hours comprised of the following courses:
1) Theatre 1190– Theatre via Video (3 credits)
2)Theatre 2141-Acting I (3 credits)
3) Theatre 1142-Stage Productions-Performers or Theatre 3220-Theatre Ensemble (1 credit)
4) Theatre 1143-Stage Productions-Technicians (1 credit)
5) Theatre 2143-Stagecraft (3 credits)
In addition to the courses listed above, the student is required to choose a concentration and complete enough hours from one of the following concentration areas to meet the minimum 16 hours:
Acting/Directing
1) Theatre 3241-Acting II (3 credits)
2) Theatre 4341-Directing (3 credits)
3) Theatre 3242-Entertainment Design OR Music 1111-Individual Music Instruction I (3 credits)
Technical Theatre
1) Theatre 3242-Entertainment Design (3 credits)
2) Theatre 3241-Acting II or THEATRE 4341-Directing (3 credits)